Basketball Tips for Coaching Young Big Men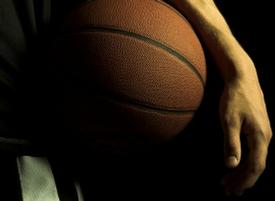 Individual basketball skill work improves young big men.
Be Patient and Stress Basketball Skill Development
By Craig Haley
PlaySportsTV Managing Editor
Youth basketball coach Frank Harris believes young big men are like investments.
"It's the word called patience," says Harris, who coached a Memphis War Eagles basketball team to the AAU 10-and-under national championship in 2008.
"If you put more time and investment in your big man, you get out what you put in them. If you don't put time into them, you're going to see other people looking at that big man and say, 'You know, that big man could be good.'"
Young centers and power forwards are growing into their body and coordination, so they often are unpolished. It's important for coaches to teach them basketball fundamentals and skills. Harris not only incorporates the players into team drills, but he recommends working individually with them to increase development.
"The key is that is it's not going to be pretty in the beginning," Harris says. "But what you're looking for is improvement from day one to the next day. They will improve."
Harris stresses that coaches start big men with layups, leading up to instruction like the Mikan Drill for layups, and to teach such basketball skills as footwork, keeping the basketball high so it won't be knocked away, shot fakes, pivoting with the ball, using the body to create spacing and how to dribble the ball.
"They really do not know how to use their body," Harris says. "The first move they can use is almost a jump hook. It kind of shields them off (from a defender). And then what I always teach, the more you keep your body into them, the less they can get their arms up in the air.
"We teach them how to use both hands. That's mandatory. We get them to use their left and their right (hand) using the Mikan drill."
Harris' national-championship squad had a 5-foot-9 athletic center and a 5-foot-10 strongman. Harris had each practice with a medicine ball. By catching it and jumping up with it, the young big men got stronger for rebounding and throwing long outlet passes.
Harris also instructed footwork drills in which the centers twisted and turned their bodies to learn balance.
"They grow so fast and they're not as coordinated," Harris says. "It takes some time for their muscles to catch up with their body."
Harris says one of the bigger mistakes youth basketball coaches make is putting big men on the perimeter too early. He says coaches must stress basketball fundamentals to build a solid base.
After doing that, watch as the big men grow into excellent players.
"Anything you do," Harris says, "repetition, repetition, repetition."
###
Learn the best coaching techniques through PlaySportsTV basketball training plans.