How to Develop a Field Hockey Goalie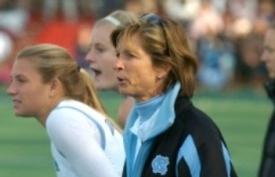 North Carolina field hockey coach Karen Shelton has won five NCAA Division I championships.
Field hockey coaches must teach skills, drills and intelligent play
By Joshua Brett
PlaySportsTV Contributor
Once upon a time, field hockey goalkeeper wasn't necessarily a specialized position.
"Back in the day, kids that weren't strong runners would be in goal," says veteran University of North Carolina field hockey coach Karen Shelton, who has guided the Tar Heels to five NCAA Division I titles and six national runner-up finishes.
But just like other positions in field hockey, Shelton says it has become a much more specialized job over her four-plus decades in the sport, including her playing days. Goalkeepers are usually trained in the position from the beginning.
So what makes a quality field hockey goalie? What skills do they need? And what do they need to do to get to the next level?
Shelton says the ideal field hockey goalie is one who is both tall and athletic. The goalie on her first national championship team in 1989, Evelien Spee, was 5-foot-9 and quick. But since you're not always going to find both qualities in one player, which one is better?
Shelton believes athleticism is more important. To illustrate this, she refers to two goalies who came after Spee – Peggy Storrar (1990-94) and Amy Tran (1998-2002), who had great careers despite being considerably shorter than Spee. Shelton makes special mention of Tran, who she calls "one of the best keepers in the world" despite her only being 5-4. She improved her field hockey skills during her career.
Moving beyond the physical side, Shelton says one of the more important qualities in a goalie is hockey intelligence and using it to properly direct the defense in front of her.
"That's the biggest thing to work on," she says. "Sometimes, they're reluctant to direct their teammates. But that's part of the job."
There are a number of drills Shelton does with her goalkeepers. Some, such as practicing penalty corners, involve the position players as well. Others are goalie-specific.
Shelton makes use of a JUGS Field Hockey machine, a device that uses the same concept as a baseball or softball pitching machine and sends balls at the goalie to practice reacting to shots. She also has her goalies practice their footwork and clearing ball. It's important for goalies to practice diving to block shots and recovering quickly enough to stop second-chance shots.
While the number of U.S. high school teams with artificial turf fields is increasing, many high school graduates arrive in college having mostly, if not entirely, played on natural grass. With the far smoother and faster artificial turf now being the standard in the college game, goalies, as well as position players, have to do some adjusting.
"Sliding on turf is different than sliding on grass," Shelton says. "Logging (lying down and letting the ball hit you rather than making a reactive save) on penalty corners – you don't do that in high school very often. That's an adjustment when they get to college."
Shelton believes it is important for a field hockey team to have two quality goalies, with the second one being capable of playing if not as well then close to the level of the starter.
"Goalkeepers are getting hurt a little more these days," Shelton says. "It used to be a fair gamble to have one good goalkeeper and an OK backup.
"(Now), you always have to have a quality backup."
The reasons for this belief go beyond injuries, however. Shelton also believes having two goalies of a similar caliber can make for healthy competition that can make both 'keepers better.
If it turns out there is little difference between the two when the season starts, a field hockey coach can do what Shelton did in 2008 with then-junior Brianna O'Donnell and then-sophomore Jackie Kintzer. She alternated starts, with both keepers playing one half of each game. Kintzer emerged by the end of the season and was the Tar Heels' starter in the ACC and NCAA tournaments.
"At the end of the season, if the statistics clearly indicated a stronger goalkeeper, we went with her down the stretch," Shelton says.
###
University of North Carolina Athletic Communications