Getting Beginners Moving Toward Gymnastic Routines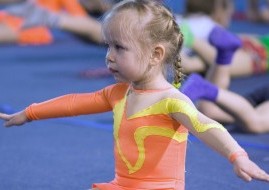 Beginner gymnasts advance on different levels.
Strong foundation gets gymnasts to gain proficiency and confidence
By Mary Ann Tarr
PlaySportsTV Contributor
It's always nice to be a No. 1, and sometimes in life it is an absolute must. In gymnastics, part of the progression on the way to No. 1 is a very important stage called Level 1.
They start when they're very young at the Gymnastic Training Center in Rochester Hills, Mich. The center has over 30 years experience and a long-standing tradition of producing state, regional and national champions.
"We have parent-tot classes for 2-year-olds; at three years is without mom and dad, and at six, they're allowed to start competing at Level 4," says veteran coach Jaye Bahleda, who has been involved with gymnastics for 23 years and directs the award-winning GTC girls' gymnastics and cheer programs. "We have an instructional preschool program where we test them through (the levels). They have to show the skill level as well as the mentality to be able to grasp a routine. Levels 1, 2 and 3 are very short, very limited, sweet routines. Level 4 is the first level where they compete outside the gym and the USAG rule is they have to be (age) 6."
Every student is evaluated at three years old and older several times a year at GTC. Once an athlete passes her evaluation, she is invited to join a developmental girls' gymnastics team. When an athlete passes all evaluations, the next stop is a spot on a competitive team, where she will perform gymnastics routines.
Bahleda works mostly with girls ages 7-17 on the GTC team and knows the value of a strong foundation.
"It's a great sport," she says. "It teaches them many things: Commitment, time management, coordination. Some of them are here 20-25 hours a week and they are straight A students. Quite a few get full-ride college scholarships."
Similarly, the big prizes at Level 1 gymnastics are to gain proficiency and confidence and to move on to the next level.
"At Level 1, they can do kick walks down the beam," Bahleda says. "In the floor exercise, they can do forward rolls, backward rolls, maybe a cartwheel. In vault, jumping off a springboard onto an 8-inch mat. In bars, maybe a simple back hip (pullover and circle)."
For example, a Level 1 balance beam routine includes eight elements:
1. Jump to front support mount
2. Tuck sit
3. Candlestick
4. Arabesque
5. Coupe' walks
6. Releve' walks
7. Stretch jump
8. Stretch jump dismount
A Level 1 uneven bars routine includes:
1. Mount: Back hip pullover
2. Cast
3. Back hip circle
4. Cast, push away dismount