Website Offers Help for Kids' Coaches
Return to News

Website Offers Help for Kids' Coaches
May 10, 2009
By Krystal Knapp
Special to The Times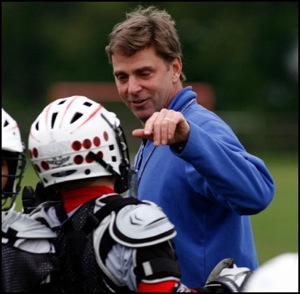 PLAINSBORO – Your daughter is pleading to try softball this spring, and you've been asked to be an assistant coach for her team. Sure, you've played softball before, but you've never coached a team, let alone a group of kids.

No need to worry, because help for the youth sports coach is just a keystroke and mouse click away.

A website created by a local television producer and father of two offers a variety of tips and instructional videos for the youth sports coach, providing advice and lessons for both the beginner and the more advanced player in more than 17 sports.

PlaySportsTV.com, an award-winning website created by Doug Donaldson of Plainsboro, offers more than 2,000 instructional videos and articles for every sport from baseball, soccer and volleyball to ultimate frisbee, skateboarding and cheerleading, and includes other features like conditioning tips, a sports parenting page and round-ups of recent sports stories.

"My goal was to create teachable moments," said Donaldson. "Our site looks at an aspect of a sport and breaks it down into four to six segments of one or two minutes each where we focus on a single item."

Donaldson, a Brown University theater graduate who has worked in media development, production and distribution for more than 15 years, created the PlaySportsTV after he became a coach for his son's basketball team.

He felt unsure of how best to coach the second-graders on the team, so he went to the Internet in search of advice. He realized that though there was plenty of information on the Web, none of it focused in a systematic way on coaching instruction at the youth level, and he saw the niche for providing that information to parents, coaches and players.

The videos on the Web site are created specifically for PlaySportsTV with the help of coaches and professional athletes who work with and train youth athletes at all levels, including the local recreational sports level.

PlaySportsTV has worked with Major League Soccer, Major League Lacrosse, the United Tennis Association, the National Basketball Association and Major League Baseball players to produce content.

The site also partners with successful youth, high school and college coaches across the country, and has worked with coaches and athletes such as Connecticut's 2009 high school football coach of the year Lou Marinelli, lacrosse standout Mikey Powell and Sasha Vujacic of the NBA's Los Angeles Lakers.

Local coaches providing instruction in videos include coaches like Princeton University head baseball coach Scott Bradley, Mercer County Community College softball and women's soccer coach Jodie Ricciardi, Lawrenceville School lacrosse coach Allen Fitzpatrick, Princeton University ice hockey coach Guy Gadowsky and Lawrenceville School girl's ice hockey coach Nicole Uliasz.

Free baseball videos range from nuts and bolts basics such as selecting the right bat and glove, bunting, throwing and pitching to more advanced topics on generating hitting power and improving fielding techniques.

The ultimate frisbee section, includes videos on throwing, catching, offense and defense. A video on catching, for example, shows players how to execute the pancake catch, a move where the hands are squeezed together to catch the frisbee.

"Our goal is to be clear and simple for busy parents and coaches," said Donaldson. "We get in, show a technique, explain why something is important and get out."

PlaySportsTV, which won a "Best Sites for Kids" award from the children's section of the American Library Association, was recently redesigned and updated and now includes training plans for baseball, lacrosse, football, soccer, and softball. The training plans are designed to deliver all of the videos and supporting training materials a parent or coach needs to coach a full season of a particular sport. Three months of unlimited access to the training plans, which included access to 40 drill videos and printable training notes, costs $19.95.

"Our training plans deliver effective tips for new coaches while offering fresh ideas from proven professionals to improve the practice habits of even the most experienced coaches," said Donaldson. "We're providing training on how to be a good coach along with all the teaching tools necessary to help kids excel and have fun."

Local Little League teams have purchased licenses for their managers for the baseball season. Donaldson plans to expand the training packages to include other sports, which he hopes will help the site to continue to grow. Overall the PlaySportsTV site attracts more than 70,000 unique visitors a month. People watch a total of more than 340,000 videos on the site each month, Donaldson said, and between 200,000 and 500,000 videos are viewed on affiliate websites each month.

"We hope parents searching for tips to coach will come to our site for help," Donaldson said. "Even if a parent isn't a coach and just wants to practice with a child in the backyard, we have something to help them."
###

Photo credit: BEVERLY SCHAEFER/FOR THE TIMES