Youth Softball Practice
Plan: Ages 6 to 10
Build your players' skills week-by-week
There's an entire season of skill-building in these 20 hour-long practice plans. Coach Jerry Laird shares drills, skills and coaching tips for beginner and intermediate softball players that teach all the essential softballs skills, from hitting and fielding to throwing, baserunning, and situational play. Each practice plan presents a new skill and includes a wealth of topics and team building activities. The basics and beyond are all delivered in an easy-to-follow, time-specific format.
Get Started Today!
Plans starting at only $9.95/month
See what our happy customers have to say!
20
Hour-long
Practice
Plans!
Check out a PDF Sample: Practice 8: Pitchers and Catchers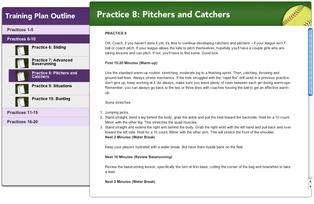 Click on the image above to view the PDF sample.