Girls' Volleyball Coaching Tips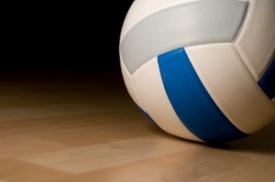 Girls' volleyball coaching tips
By Mike Scandura
Special to PlaySportsTV
Bryant University women's volleyball coach Theresa Garlacy laughs about it now, but one night her team's bus broke down in the mountains on the way to a match at St. Michael's in Vermont. Cell phone service wasn't working, either.

Fortunately, state police came by and called the first department. Rescue and police cars transported the team to its hotel, arriving around 4 a.m.

The Bulldogs had to be at St. Michael's for a 10 a.m. match and won despite their ordeal and lack of sleep. Credit all their success to hard work in practice.

Garlacy stresses fundamental volleyball skills and game-like conditions during practice. After leading Bryant to an unparalleled period of success, including 10 NCAA Division II tournament berths and five Northeast-10 Conference titles in 12 seasons, Garlacy led Bryant to the Division I level in 2008.

She shares her tips and advice for young volleyball coaches and players:

PlaySportsTV: What advice do you have for youth volleyball players?

Garlacy: It's not enough to play in high school. You must find a good club program. Obviously, the computer is a tool we didn't have. Do a search and look for USA Volleyball. For example, in this area look for NERVA (New England Regional Volleyball Association). It will list all the clubs in this area.

In December, tryouts are held for clubs in various regions. There are different ranges for tryout levels. They go from 12-and-under to 18-under.

PlaySportsTV: What advice do you have for youth volleyball coaches?

Garlacy: Keep the kids active and keep practice interesting. Kids have to be open to trying a variety of positions and working on all levels of skill development.

They're there to learn the skills and fundamentals. You must have fundamental skills so you don't develop bad habits.

PlaySportsTV: What was the key for you in building a championship volleyball team?

Garlacy: Team leadership. You need captains who are willing to take responsibility and are willing to back up what they say on the court.

PlaySportsTV: What have you found is the best way to motivate volleyball players?

Garlacy: Make things game-like. Our practices are very game-like in terms of pressure situations or having a goal for the drills. Scores are kept for everything and there are consequences - and consequences are always team-based.

PlaySportsTV: How do you ensure you make volleyball drills fun and enjoyable for your players?

Garlacy: By making it challenging so they have to work hard every day. We don't do the same things every day. After we warm up and stretch we're going to get into team stuff. Volleyball is like their oasis. They get away from everything else, focus on volleyball and compete and work hard.

PlaySportsTV: What do you feel is the most difficult aspect of coaching volleyball?

Garlacy: Serve-receive is the most difficult thing to teach and the most important aspect of the sport. It's your first contact and in volleyball first contact is everything. If you don't have a first contact, you don't have anything.

###

Story courtesy of Red Line Editorial, Inc.