Boys' Lacrosse Tips with Matt Ward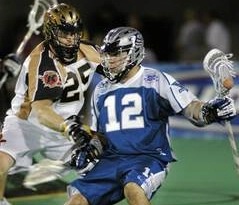 Matt Ward
By Chris Lindsley
PlaySportsTV Contributor

Matt Ward, a three-time All-American at the University of Virginia, was Major League Lacrosse's Rookie of the Year with the Baltimore Bayhawks in 2006. As a senior at Virginia, he won the Tewaaraton Trophy, college lacrosse's version of the Heisman Trophy, and led the Cavaliers to a perfect 17-0 record and the NCAA title.

His life devoted to the sport, Ward enjoys offering lacrosse tips and advice to youth players who are learning how to play lacrosse.

"Play as much lacrosse as possible, and play as many other sports as you can," Ward says. "Growing up I played tennis, soccer and basketball in addition to lacrosse, and all of those sports taught me skills that related to lacrosse and helped make me a better player.

"I started playing lacrosse in the third grade, and it took me awhile to get the hang of it. In fact, it took me a month or two just to learn to cradle the ball, but then one day I realized I could cradle it, and it all took off from there.

As an offensive player, Ward says he enjoys the high-scoring, up-tempo pace of lacrosse. His offensive prowess at Virginia helped him to be recognized as the top American college lacrosse player, but winning two NCAA titles was more meaningful to him.

"The national title is the end-all, be-all for me," Ward says. "I was a part of two championship teams at the University of Virginia. My freshman year I was pretty much along for the ride, as our team was led by 12 seniors, but to win another title my senior year as one of the team's leaders, and to go an undefeated 17-0 was my greatest accomplishment in lacrosse. We really played together as a team, and got much better each week of the season through the title game.

Ward encourage youth players to practice lacrosse drills to improve their skills. He says he is still doing that at his age.

"Playing wall ball is a great way for kids to improve their lacrosse skills on their own," Ward says. "Any time you can spend throwing the ball off a wall and catching it will make you a better player. You want to keep a stick in your hand as much as possible, and wall ball let's you do this pretty much anywhere you are.

"When playing wall ball, kids should work on their off hand as much as possible. I did this as a kid, and this helped make me a better player, and is something I still benefit from today. A wall ball drill I used to work on was trying to hit the same spot on the wall 10 times in a row. I would make myself do this before I'd stop.

"Patience is the key. It won't come easy, and it didn't come easy for me. It took me a few months to get the hang of it, but once I did, my skills started to improve dramatically, and yours will, too.
###
Instruct the best coaching techniques through PSTV training plans. Here's a great Matt Ward instructional video that breaks down shooting on the run.
Photo courtesy Major League Lacrosse