Youth Soccer Coaching Starts With a Plan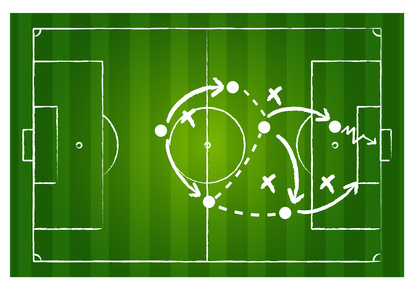 A good soccer coach has a plan.
By Craig Haley
PSTV Contributor
In most sports, they hold practices. In soccer, coaches often refer to their preparations as training.
"Training sounds a lot more exact of what we're trying to get," says Jimmy Obleda, head coach of the Fullerton (Calif.) Rangers squad which captured the U.S. Youth Soccer Under-14 national championship in 2011.
The wording might be a case of semantics, but the point is soccer training/practices offer a mind-set, and for a coach it should be focused on developing players.
From the introductory level to more skilled travel teams, a youth soccer coach will develop players through a distinct progression of fundamental and skill development. The best way to instill that in players is to have succinct training plans for each practice, er, training session (PlaySportsTV offers a variety of soccer training plans for players of different age and skill).
"I think the key," Obleda says, "regardless if it's rec, competitive, whatever the level, is it has to be goal-oriented, what we want to get out of each session. Knowing what we are trying to achieve and how do we get that.
"It doesn't matter if it's from younger kids, older kids, it's what we want to accomplish at the end. That's a smaller scale, and then you go into a bigger scale, going, 'OK, so if I have a must (to accomplish) with a team, what do I want to accomplish in each session?' So at the end of the month, just to give a month, these are the things that I want my team to improve upon."
A coach is charged with many tasks in player development, so pre-planning allows him to use the training time wisely. It provides a coach with an outline of how to keep a training session moving in positive and productive ways. It also gives youth soccer players more of an opportunity to become technically proficient on the field. In turn, the players will come to realize the importance of fundamentals and gain confidence in their abilities by the time the team advances to playing games.
The number of training sessions varies upon the age and competitive level, but a coach should get started at the earliest part of the preseason and hold at least one per week at a minimum of one hour.
Considering the nature of soccer, conditioning goes hand-in-hand with the skill development, so the training session should keep players on the move. Teaching a strong base of skills requires repetition, so a coach should keep his training sessions both interesting and fun while being encouraging to the players. At the younger levels, a coach should discuss the rules of soccer throughout the drills.
Although it may sound basic, there's nothing basic about drills focused on dribbling, passing and ball movement, proficiency with both feet, and heading and trapping, first individually, then in 2-on-2 and 3-on-3 drills leading into larger units. Over time, a coach should increase the instruction and intensity of the training sessions. As players develop, a coach should have a feel for when he can teach more advanced concepts, such as an offside trap or finishing in the final third of the field.
Youth soccer coaches also should plan for the training sessions to replicate game conditions because the speed at that point comes at a higher pace. Even at top speed, a player will be relying on his basic skills.
"I'm a firm believer in teaching the fundamentals of the game," Obleda says.
"At the younger age, it's the golden age, they're sponges. You show a kid once, twice, he'll remember it, he'll absorb so much. It's so important that they get everything correctly from the beginning."
So whatever a coach wants to call it – training, practicing, teaching – he should have the plan to make it happen.
###
Learn the best coaching techniques through PlaySportsTV soccer training plans.