Youth Soccer Coaching Tips from Brown Coach Phil Pincince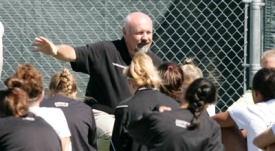 Youth soccer coaching tips with Brown University coach Phil Pincince.
By Mike Scandura
PlaySportsTV Contributor

The Ivy League has many success stories off the playing fields. But don't overlook all of the success on the playing fields. They're as serious about athletics as they are academics.

Take Brown University women's soccer coaching legend Phil Pincince. He generally has the Bears in the mix for Ivy League titles and NCAA Tournament appearances.

Brown's coach since 1977, Pincince is the longest standing coach in women's soccer. He has been inducted into both the New England Soccer Hall of Fame and the Rhode Island College Soccer Hall of Fame.
(PlaySportsTV's Coaching Youth Soccer series and How to Play Striker provide great soccer instruction for both teams and individual players. Here's a great instructional video on ball-striking technique.)
The long-time Brown coach is devoted to the sport from the youth soccer level on up. With his background, he is able to provide soccer tips to coaches, players and parents.

"Don't go through the motions. Too many times, kids are doing things they don't have a passion for as opposed to what the parents have a passion for," Pincince says.

"I'm a big believer in passion. Have passion and respect for the game of soccer and have respect for the players you coach."

Pincince says coaches must be knowledgeable and be prepared for training sessions. They also have to understand that kids learn differently. Some learn vocally, some are more visual.

He adds the role of the parent is important.

"Be careful of your questions and comments," Pincince says. "It's easy to be negative in the first comments you make to your child after a game. For example, if we're talking about a team sport like soccer, ask how the team did."

Pincince challenges youth soccer players to improve on their own. From learning technique by watching older players to practicing soccer skills, Pincince believes young players should put in the time for improvement.

"Work on first touch by banging a ball off a wall or a garage," Pincince says. "And it's so easy to have a pick-up soccer game. Kids usually don't go out and play unless it's an organized practice. Kids can get better by having friends come over and play 2-on-2 and 3-on-3.

"I've seen it so many times at a youth practice where the coach couldn't make it and the kids, instead of playing pick-up, go home. Times have changed because everything is so organized. If a coach goes home, nobody plays. This is an opportunity to play small-sided games.

"Kids also need to be students of the game. You have to remember what you're told and have to take some responsibility for improvement, as well."

Among Pincince's favorite youth soccer drills is one called World Cup.

"In the Brown version of World Cup, we make three teams of five each, including a goalie on each team," Pincince says. "We play in an area that's maybe 25 yards long by 25 yards wide. Two teams play. If you score more than the other, your team stays on and continues to play. One of the rules is if you shoot and miss, you fetch your ball so your team plays short-handed (and a different ball is immediately in play).

"At the end of the time, because points are awarded, a team is in first place. We'll go on to playoffs to decide the championship.

"It's fast and furious and it's in the attacking third of the field. It deals with defending, attacking and decision-making."
###
Learn goalkeeper training and the best coaching techniques through PlaySportsTV soccer training plans.

Story courtesy of Red Line Editorial, Inc.
Photo courtesy Brown University Office of Athletic Communications