Paul Riley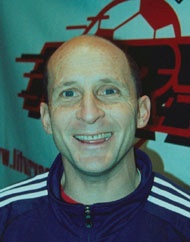 Paul Riley
Paul Riley has had a long and successful soccer career, both as a player and a coach. Signing for his hometown club Liverpool FC in the UK, he was the youth team's MVP. He played collegiately at Adelphi University. As a professional, he represented the Long Island Rough Riders (all-time leader in assists), the New Jersey Eagles (MVP 1990) and the Albany Capitals, and was named to the APSL All-Star team in 1989 and 1990. He won the NEPSL championship in 1991 and 1992 with different clubs (Glen Cove and Hercules) and was the league's MVP in 1991.
As a coach, he was at C.W. Post from 1986-97, including the last six years as head coach. He then took charge of the Long Island Rough Riders and was voted A-League National Coach of the Year in 1999 and the Umbro A-League All-Stars Coach in 2000.
In 2006, the Long Island Fury formed and joined the WPSL, the second-ranked women's league in the world. As head coach, Riley led the Fury to the national championship and a world ranking of No. 8 in that first season. In 2007, he formed a senior's men side, the Long Island Academy, which plays in the NPSL Eastern Division.
When Riley is not coaching the Fury or the Academy or overseeing the 19 girls' teams and 19 boys' teams of the Albertson Soccer Club, he runs the Paul Riley Soccer School, which hosts regular training camps and skill sessions for players of all ages. Riley is one of the top youth coaches in the country and has seen several of his players called up to represent the U.S. national youth teams.