Girls' Softball Tips for Baserunning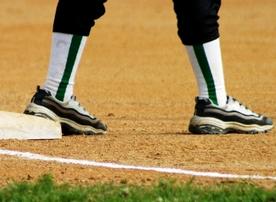 Girls' softball players must have baserunning instincts.
Take steps in the right direction for a winning style
By Barry Federovitch
PlaySportsTV Contributor
Science or art?
Ask Chris Giugliano and he'll tell you that base running is a lot of both. The manager of the Sparta (N.J.) 12-and-under fastpitch softball squad that captured the 2005 Babe Ruth World Series title, and founder of the Northwestern New Jersey-based powerhouse Jersey Storm program (16-U and 18-U), Giugliano was like many coaches who had dabbled in baseball and thought he knew something about softball baserunning.
Different game. Different dimensions. But, most of all, he discovered, a different mindset necessary for success.
"I think back on how little I knew at the time," he says, "especially from a base running standpoint. The 60-foot bases and 45-foot mound are at the crux of it … at 40 feet, a 60 mph fastball is akin to a 90 mph fastball. It's a very quick period of time and girls get down the baseline quickly. That's why the short game is so important."
(Instruct the best coaching techniques through PlaySportsTV softball training plans, including all the elements of sliding technique.)

The problem Giugliano discovered and many beginner softball coaches encounter is that younger softball players do not think on the same level as beginning baseball players. The reason isn't that boys are smarter, but rather have more playground experience at 9 or 10 years old.
"We found the girls generally lack in instinct on the bases that boys seem to exude," Giugliano says. "For instance, how to set up a catcher for a delayed steal, which you typically do on a second pitch. We'd teach girls a nonchalant lead, a small lead, a lazy lead, lure the catcher … We taught them not only how to do it, but how to set it up."
Giugliano understands that a lack of confidence is often a girls' softball coach's biggest enemy when it comes to beginners. So he emphasizes teaching and reinforcement with specifics, not vague concepts that can be lost on beginners.
"We'd teach, take pictures, document, then we'd print out and get collated into a playbook they'd be required to carry with them. (Then they have) the gist and why you do it."
Some examples?
"The avoidance slide," Giugliano says. "Let's say you're trying to leg out a double (or) stealing second base. The shortstop is covering and comes in front of the bag. You take an outward angle toward center field and the shortstop has to stretch an extra four feet. You can be safe even if the throw beats you.
"I taught a fake steal of third base. It was great for getting in the minds of the catcher, the shortstop, the other coach. They're playing bunt and you don't know how aggressive the shortstop is, you put on a fake steal of third, where the runner on second base goes six or seven steps (and) comes to a halt as the catcher throws. What she's looking for is a misplay. Is the catcher gonna make a misplay? If the throw is on the money, you're retreating to second … We'd hear, 'Leave her alone, she's not gonna go' and the next play we'd steal third."
Even if trick plays aren't your style, girls' softball coaches can help players improve by emphasizing thinking on the bases rather than sticking to worn-out slogans that often are misinformation. An example: a runner should go halfway to second on a flyball to the outfield.
"It depends on where the flyball is," Giugliano says. "Down the left-field line and you go three-quarters of the way to second. To center, halfway. To right field, be careful. Everybody wants to say halfway, but you get as far off the bag as you can and safely get back if the ball is thrown to first. You want to press the limit if the ball falls in. How do you teach someone learning the basics? It's a way to convey feeling.
"It's the same thing with a lead (on the bases). What kind of arm does the catcher have? How aggressive is the catcher behaving? How quickly can you get back to the bag?"
Even softball drills on sliding into home plate help.
"We'd line up the girls at third base, roll a grounder and have them come home. The catcher would be set up in front of home plate and we'd have the girls use as much of the dirt as they can, catching the back corner of the plate with their left hand. We found girls were so obedient, moreso than boys, that they would slide into the catcher's lap. Why make it easy?"
###
Instruct the best coaching techniques through PlaySportsTV softball training plans.