Girls' Softball Practice Tips From a World Series-Winning Coach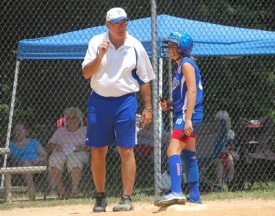 Youth softball coach Jerry Laird's team won the 2008 Babe Ruth World Series.
By Joshua Brett
PlaySportTV Contributor

Championships aren't entirely won on the field. While that may be where the final product has to perform, the foundation for that product is built in practice.

Jerry Laird led the Hamilton (N.J.) Hurricanes girls' softball team to the 2008 Babe Ruth 12-and-Under Softball World Series championship in Audubon, Pa., by sweeping a doubleheader from Plaquemine, La., on a humid late August afternoon. But the plays the Hurricanes executed so well that day had been worked on in practices held in the much cooler days and evenings of April.
(For more great tips and youth softball drills, check out PSTV's collection of softball training videos. This instructional video teaches how to get multiple players involved at once by throwing around the horn.)

Laird says there are three points to emphasize during youth softball practices: repetition, how to handle game situations and competition.
Keep Practicing Softball Drills Until You Do Them Correctly
What's noticeable about Laird's practices is the repetition. He always works with the infielders, his assistant always works with the outfielders, and they keep repeating whatever softball drill they're working on until they do it the way he wants.

"I'm a big believer in repetition," Laird says. "We put the team together, work on certain things, then split up into groups. We do specific drills on fundamentals. We do them over and over until they get them right."

"If they don't want to keep doing it and move on to other things, they make sure to do it right."

He even repeats the same season-opening practice every spring. That workout emphasizes baserunning. He usually won't go back to those softball drills again.

The second practice always involves bunting. Laird has multiple bunting plays for different game situations, such as a baserunner on first with nobody out and a baserunner on second with one out. Situational drills like that are perhaps the most important element of his softball practices.
Softball Coaching Tip: No Surprises
Catcher Courtney Whittaker received the Most Outstanding Player award at the Babe Ruth Softball World Series. She won the award in large part because of her great defensive work, which included picking a baserunner off third base and making two stellar plays at home plate to tag out baserunners trying to score in the championship game.

"She was asked (by a reporter) about that and she said she worked on that same situation in practice," Laird says.

Laird does likewise with every other position on the field and game situation. How should infielders position themselves to catch pop-ups in the shallow outfield, or no-man's land? How should an outfielder charge a ball so she can pick it up and throw it in one motion? How should the second baseman be positioned with a runner on first and one out in a one-run game in the fifth inning?

The goal of working on all of those game situations and others during softball practice drills is to ensure that his team is ready for whatever should come its way in a game.

"I told (the players) that they'll never be surprised in a game," Laird says, "because they'll never see a situation they didn't see in practice."
Softball Drills Can Be Like Softball Games
Once the softball drills are done, Laird likes to incorporate games. But those games also are for more than just fun – there's softball instruction.
Whether it is home run derby or a contest emphasizing how to catch baserunners in a rundown, the games give his players a chance to apply what they just worked on in practice. They also inspire players' competitive drives – the losers have to run laps.

"I want them to understand that the idea at this level is to win," Laird says. "This isn't (recreational) softball. This is travel softball. We're here to win."

Laird's Hamilton Hurricanes girls softball team certainly did that while winning a national title. But the roots of that success can be found in his practices and the way he runs them.
###
Instruct the best coaching techniques through PlaySportsTV softball training plans.