Coaching Girls' Softball: Make Defense a Focal Point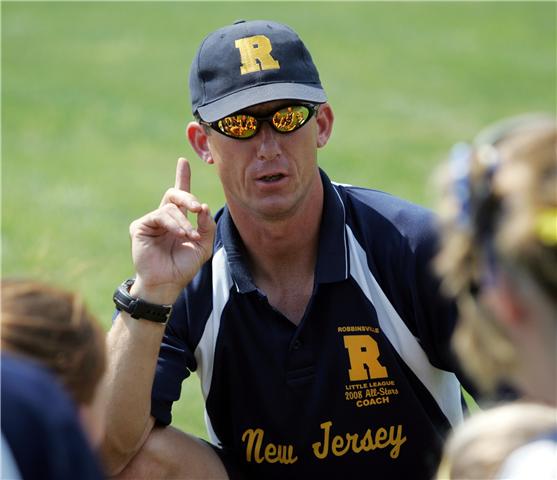 Coach Jim Freeman makes defense a focal point of his softball drills.
By Barry Federovitch
PlaySportsTV Contributor
Throw away that image of the beer-guzzling, hollering, distracted Little League coach in classic movies like "The Bad News Bears." According to Jim Freeman, head coach of the Robbinsville (N.J) 12-year-old girls' softball team which reached the final of the 2008 Little League Softball World Series, it's important to being a student first when teaching softball defense. And Rule No. 1 in "How to coach softball" is that most players perform better when relaxed.
'"You never want to holler in the game. You want to wait until the end of the inning to make suggestions," says Freeman, a successful coach on the district, state and travel levels. "You try to keep your head about you. They feed off you. If a coach is wound up, the team is wound up. You won't see me out there screaming. I learned patience a long time ago."
(Coaching beginner through intermediate softball? PSTV's Coaching Youth Softball training plan has 75 video tips, skills & drills for an entire season. Here's a great video for instructing fly ball fundamentals.)
Freeman found that learning the nuances of softball instruction takes time.
"It's about finding your own style," he says, "but secondly the thing that helped me the most was that I went to so many coaching classes to learn the game correctly. There is a 'Be the Best You Are' clinic in Cherry Hill (N.J.) every year. I've been going to that the last three or four years. College-level coaches teach the game the way it's designed to be taught. Some coaches don't know this. They figure, 'This is the way I did it when I was a kid.' We learned the correct way to throw a ball, catch a ball, and it paid off for us."
Freeman makes defense a focal point of his softball practice drills, and that was a big part of Robbinsville's run to the Little League Softball World Series.
"I tuned up a machine and we took rubber bungee balls and hit them in cages," he says. "We fed them into the machine and had them work drop-step drills. You do it 20-30 minutes per practice and work on your outfield. Every kid could drop-step on a ball — the long ball, the short ball and they learned where they should be backing up. Catching the rubber ball, in the first practice, I had 30-40 dropped balls. By the time I was done, they weren't missing a thing."
Freeman says similar drills can be used for the infield.
"We dropped soft hits between the infield and the outfield," he adds in another softball tip. "We didn't not catch that ball (all season). They were tuned up … Our pitchers put the ball across the plate, threw a lot of junk and they knew the ball was gonna be hit. When it got hit, it was usually gonna get hit hard."
But when it comes to yelling, just because Freeman takes a quiet approach doesn't mean he wants all of his players to follow suit.
"Most important was our catcher," he says. "They should be a very vocal kid. If the ball is rocked to the outfield, she was right on top of it. Catchers need to control game. You can't have a timid kid back there. You need a nice, loud kid. As you get older, catcher leads the field."
###
Instruct the best coaching techniques through PlaySportsTV softball training plans.

Photo courtesy of The Times of Trenton, N.J.