About PlaySportsTV
Welcome to PlaySportsTV!
Founded in 2006, PlaySportsTV is the leading youth sports website in the US. We deliver professional youth sports training videos in all major sports. With over 3,000 videos (most with printable training notes!) accessible at the click of a mouse, our online youth sports training is designed to make learning how to play sports easy and fun.
A Message from our Founder
In 2006, I signed up to coach my son's second-grade basketball team. Like a lot of dads, I had played a variety of sports as a kid and was ready to throw myself into volunteer coaching with my son. On the way to the first practice, I was thinking about the box-and-one defense and alley-oop passes, but what I discovered, of course, was that these kids really needed someone to teach fundamentals, like how to dribble a basketball. I quickly went looking for age- and skill-appropriate materials so that I could teach to their level, but nothing existed.Sure there are lots of books and DVDs out there, and, frankly, lots of video content on the Web. But I wanted to do something different. I wanted to create a website to help all parents and parent-coaches who have volunteered to coach or help coach their child's team – whatever the sport may be.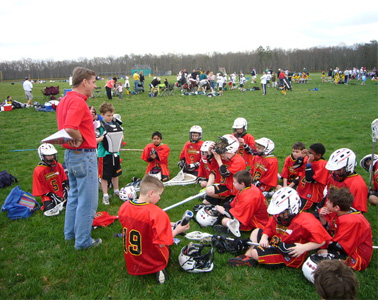 Doug Donaldson - Coaching Youth Lacrosse
How is our content different? It's authoritative and professionally produced. Our videos are created specifically for our website with coaches and professional athletes who work with and train youth athletes at all levels of the game. I like to think of our content as providing all of the "teachable moments" in youth sports.
We've produced over 3,500 video tips, drills and skills – the perfect visual aid for a parent, parent-coach, or young athlete – in all major youth sports … with more to come! We've worked with Major League Soccer, Major League Lacrosse, United States Tennis Association, National Basketball Association and Major League Baseball players, and great coaches at all levels from around the country. Talented players like Sasha Vujacic of the New Jersey Nets and Mikey Powell, former Major League Lacrosse great, and great coaches like Scott Bradley, head coach of Princeton University baseball, and Lou Marinelli, head coach of New Canaan High School football (not to mention 2008 Connecticut Coach of the Year), have contributed to make PlaySportsTV a success.
We've developed each sport landing page on PlaySportsTV to be as simple as possible. You can quickly get to the specific training videos that meet your needs.
All of our products are designed to deliver the effective instruction - videos, supporting training materials, and detailed practice plans – that a parent or parent-coach needs to coach a season of a particular sport. You'll notice that many of the products are available on-line and as DVDs.
I've met so many parents that have a story similar to mine in terms of coaching kids. It's an incredibly rewarding experience to build a website like PlaySportsTV, where our mission is to level the playing field so that any parent can participate as a coach or assistant.
I'm a three-sport coach for my son and I'm always watching our videos in advance of practice. It's easy to find tips, skills and drills that help me teach the fundamental aspects of youth sports. I hope you'll have the same experience!
Doug Donaldson
President and Founder of PlaySportsTV