Using Signs with Youth Baseball Players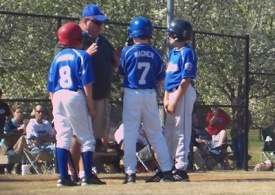 Little League baseball manager Randy Morris starts teaching signs to youth baseball players who are 9 or 10
By Craig Haley
PlaySportsTV Managing Editor

Little League baseball manager Randy Morris laughs about the three or four times he has signaled for a bunt, his batter missed the sign and then wound up hitting a home run on the next pitch. No, teaching signs to youth baseball players is not an exact science.
Morris, who managed Columbus (Ga.) Northern Little League to the 2006 Little League World Series championship – beating Kawaguchi City, Japan, in the final – believes it is important for youth baseball coaches to be patient when teaching signs to youngsters – either from the third base box to hitters or from the dugout to the catcher, who relays the information to the pitcher.
(To get your youth baseball players sliding properly, teach the figure four technique. Learn the best coaching techniques through PlaySportsTV training plans.)
A play is indicated when a coach touches a part of his body or uniform, and he will touch many places while going through his signs. Morris doesn't even mind if the opposing team picks up on a sign because he believes it won't matter if his players execute the play properly.
Youth Baseball Tip: Keep the Signs Simple
Morris recommends coaches wait to start teaching signs to youth baseball players who are 9 or 10 years old. Younger players aren't ready for it, nor is it necessary, he adds. When a baseball coach starts teaching signs, Morris says to keep it simple and not overload the players with information.
"What I try to do is I try to keep my signals as basic as I can," Morris says. "The kids already have enough to think about in being out there playing the game. I try to keep my signals very simple."
With a hitter, a youth baseball coach has signals for a small number of plays, including bunting, a fake bunt, taking a pitch, a steal or delayed steal (although many youth baseball leagues do not allow stealing), or simply no action at all (when a coach is trying to convince the defense a play is on).
To signal a play is on, a youth baseball coach should use an indicator before giving a sign.
"I use just my hat as an indicator," Morris says. "(Then) it's the first sign right after I touch my hat. "I use belt for bunt – 'B'. And on my chest is a fake bunt. So right up from the belt – bunt is belt – is fake bunt. And what I just use on the steal is the indicator and then I wipe down either arm – it can be either one, something very simple. As far as take (a pitch), I use my hat and I touch my earlobe. Something that I just normally wouldn't do while I'm standing down there coaching third base."
When a youth baseball coach gives signs to the catcher, he can signal for pitch type as well as pitch location.
"The first thing my (pitching) coach touches is a nose, a hat, (for) a curve ball, a fastball or change-up," Morris says. "And then next thing he touches, he has one, two, three, four. One is inside corner, two is outside corner, three is up, four is down. Just very basic, basic signs."
Youth Baseball Tip: Use Different Signs for Different Players
Having led a world championship team, Morris says youth baseball coaches can be more progressive when giving signals to players on all-star squads.
"What I do is I keep my basic signals as far as coaching third," he says. "But what I will do is I change my pitch signals. One inning I'll go with maybe the first thing I touch. The next inning it might be the third thing that I touch. I try to mix it up a little more for all-stars because you do have people who will sit around in important games trying to pick up your signals.
Above all, Morris reminds youth baseball coaches to be patient when giving signs, especially with youngsters who struggle initially to remember them.
"Write 'em down on a piece of paper," Morris says. "Just like school work, make 'em study them for 15 minutes every night. I think that will take care of it. What we do is once a week we go over our signs and I always go over the signs and remind 'em of the signs right before every game starts. That way it's kind of fresh in their minds."
###
Learn the best coaching techniques through PlaySportsTV baseball training plans.