Coaching Youth Baseball: Tips for the Parent-Coach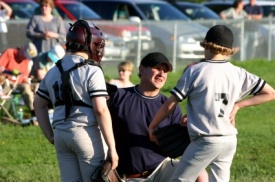 Coaching Youth Baseball: Tips for the Parent-Coach
By Kevin Maloney
PlaySportsTV Contributor

Coaching your own children can be one of the most rewarding experiences for a parent. Yet it can be nerve-wracking.

While on one hand coaching your child gives you the ability to spend more time with him or her and allows you to watch the interaction with other kids in a team-oriented atmosphere, assuming the role of a youth baseball coach can be quite stressful on both the parent and the child.

One of the more painstaking tasks involved with coaching a youth baseball team that your child is on is making sure he is a part of the team. Parents, and in some cases, others players on the team, will feel and make comments that your child is receiving preferential treatment based on where they hit in the lineup or what position they play in the field simply because they are the child of the coach.
(Engage young baseball players throughout practices and focus on fundamentals, like Princeton University baseball coach Scott Bradley.)
Baseball Coaching Tip: Block Out Outside Opinions
Long-time Bucks County (Pa.) youth baseball coach Don Wiater, who for almost two decades coached both of his sons from the time they were in Little League through Babe Ruth years, said his experiences have taught him that for a coach to be successful it's important to block out that notion.

If you allow those peripheral opinions to affect your mindset, according to Wiater, you could end up asking and expecting more from your child than any other member of the team, which can and will quickly put a strain on your relationship with your child.

"You always felt that people were going to feel you were playing your son because he's the coach's son," Wiater said. "Therefore you always expected more from your son. He had to play better, be better, set the example. He had to do more than the other kids on the team to counter that opinion. And (that opinion) might not have even been out there, but you always perceived it being out there."
Kids and Youth Baseball: When to Stop Being a Coach
For some parents, it can be extremely difficult to turn the baseball instruction on and off. Remember to draw a clear distinction between parent-coach and child-player.

Jim Maher, a very successful high school baseball coach who led his Nottingham Babe Ruth team from Hamilton, N.J., to the Babe Ruth World Series in three consecutive years as 13-, 14-, and 15-year-olds, said after coaching his son for a decade, the biggest piece of advice he can pass along is to leave what happens on the baseball field at the baseball field.

"If there's anything I would have maybe tried to do over is when you leave the field you should just leave it there," said Maher, also a long-time college and high school coach. "There were probably times where we would argue about something that happened on the field on the car ride home, and if I could have it over again, I would have just let it go and worried about it the next day."
###
Learn the best coaching techniques through PlaySportsTV baseball training plans.