Coaching Youth Basketball: Make Your Practices Competitive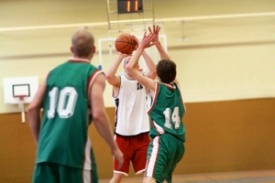 Make Basketball Practice Competitive
By Marty Gitlin
Special to PlaySportsTV

One need not speak with Bob Krizancic to understand his basketball coaching philosophy. The highly successful boys' basketball coach at Mentor High School in Ohio has gained a reputation for motivating his players to compete with ferocity.

The Cardinals jump on opponents from the opening tick of the clock with a chaotic full-court press and don't let up for a split-second. They drive to the basket aggressively and either finish or kick it out for an open 3-pointer. Even a 30-second time clock would mean nothing to Krizancic's crew, for which 90-point games are not uncommon.
So it comes as no surprise that he espouses instilling the same competitive spirit in youth basketball players. He believes that the sooner youngsters are brought up to speed – game speed, that is – the better.
(Instruct the best coaching techniques through PlaySportsTV training plans. Here's a great instructional video on boxing out.)
Basketball Practice Plan: Competition at Game Speed
"I think youth coaches should try to make everything competitive," he says. "You split the kids up to play one-on-one or two-on-two or three-on-three and you talk about playing in game speed. You can shoot every day in the gym, but have the kids shoot quick shots, then let them get tired before they shoot a foul shot because in a game, you go the line a little bit tired.

"The kids need to understand how to win and I don't believe competition can start too young. We do dribble tag and dribble races in our basketball camps. We also do passing and dribbling drills, but we make them fun because kids at that age don't have great attention spans."

Krizancic feels there is a sense of urgency to maximize potential, particularly considering travel teams start at a young age and, for those with great talent, college scouts scour the country for players as young as 14 and 15 years old.
Basketball Coaching Tips: Don't Typecast Your Players
And getting the most out of youth players also means not typecasting them. Though it's tempting to place the smallest, quickest kid at point guard and the tallest one at center, Krizancic stresses that it should be avoided.

"I don't feel you should label a player a big man or a guard, even in sixth or seventh or eighth grade," he offers. "You want the kids to experience everything on a basketball court so they won't have any weaknesses. You want them all to be able to dribble and shoot and rebound and defend in all areas."

No kid gets discouraged under Krizancic's philosophy. He understands the importance of preventing anyone from becoming disheartened over his or her progress.

And that's where spirit and a willingness to work enter the picture. Krizancic's Cardinals have been laden with players over the years who have lacked the physical gifts to excel, but have made tremendous contributions to the team's successes because they extracted the most out of their abilities by working up a good sweat.
Basketball Coaching Tips: Work Ethic Is More Important Than Ability
"You're going to have kids who are athletically lower than others, but work ethic is the key," he explains. "We take a kid with fewer skills, but who has a great work ethic over kids with ability any day. In this day and age, kids can handle competition at an early age, but the last thing you want to do is discourage them."

And that means not only practicing on the court, but working off the court as well. Krizancic encourages strength training, even at a young age. That doesn't mean he likes to see 8-year-olds lifting weights, but a few push-ups and sit-ups might be in order.

"It's good to get kids on a program where they can make themselves stronger without weights," he says. "Combining balance and strength -- that's how you get explosion."

And anyone who has seen the Mentor Cardinals smother opponents with their full-court press or take that quick first step to the hole understands what Krizancic achieves through explosiveness.
###
Learn the best coaching techniques through PlaySportsTV basketball training plans.

Story courtesy of Red Line Editorial, Inc.