How Cheerleaders Develop Strength and Conditioning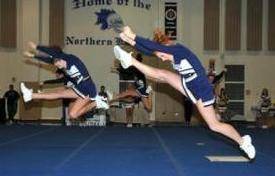 Proper nutrition and training allow cheerleaders to build a strong body and minimize injuries.
Make exercises, healthy lifestyle part of cheerleading
By Mary Ann Tarr
PlaySportsTV Contributor

They spend much of their time pushing and pulling for their teams to win, but for young cheerleaders to thrive, they need to do many of the same things as the other athletes – particularly pulling and pushing.
According to Dave Csillan, the athletic trainer at Ewing High School in Ewing, N.J., pull-ups and push-ups are two of the best exercises for cheerleaders to safely develop and maintain upper body strength.
"These exercises are economical – no fancy equipment required – and rely on the person's own body weight as resistance," says Csillan, who believes that both should be performed every day. "Start with one set of 10 repetitions and gradually build to three sets of 10."
He says the exercises will help cheerleaders develop strength of the chest, upper back, shoulder, upper arm, forearm and hand muscles. Strength in these areas is needed so cheerleaders can perform lifts and pyramids safely and successfully.
Just as those pyramids require a good foundation, cheerleaders also need a strong base. In an attempt to avoid the knee problems that plague so many female athletes, Csillan advises limiting use of the leg extension and leg press machines.
"A better method of lower-body strengthening is performing straight leg raises with ankle weights while lying on the back," says Csillan, again noting to start with a set of 10 and build to three sets of 10. "These exercises will develop strength of the upper front thigh (quadriceps) muscles. Another good one is (while) standing on a step with the heels hanging off, raise the body on the toes as high as possible and lower so the heels drop past the step. This helps develop strength and flexibility in the calf muscles."
Cheerleaders, like all athletes, must remember that flexibility is an important component of injuring prevention. "The secret with flexibility exercises is the time factor," Csillan says. "No need to spend too much time doing these. One exercise per muscle group will suffice. Once in the stretched position, hold for 10 seconds and relax. Remember to hold the stretch and not to bounce." He says that it should take no more than 15 minutes to complete all stretching exercises, using one set of five to eight stretches per muscle group.
A healthy lifestyle, including conditioning to develop muscular and cardiovascular fitness as well as proper nutrition and fluid replacement, is another important factor in building a strong body and minimizing injuries. "Some people prefer moving around the track," Csillan says. "Others like step aerobics. Either way, the key here is to be able to complete 20-30 minutes of continuous exercise."
Tiffany Harkleroad, the cheerleading coach at Nottingham High School in Hamiton, N.J., concurs with the vital necessities of proper training and safety precautions – including using mats and spotters – for a positive experience. She also emphasizes that the vitality that comes from being happy and healthy is irreplaceable.
"You have to have a lot of spirit," says Harkleroad, who also recommends training in dance – particularly ballet – and gymnastics for developing young cheerleaders.

###
Photo courtesy of Tiffany Harkleroad.