Hockey Coaching Tips for Forming Power Play Lines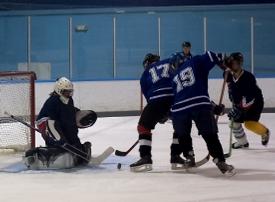 All youth hockey players should have experience with the power play.
Elite program believes in playing all youth hockey players
By Craig Haley
PlaySportsTV Managing Editor
Running a power play with youth hockey players is about having discipline. Not just with the players, but the head coach, too.
A youth hockey coach faces the decision of how to structure his power play lines. Should he put his top three forwards on the first line, with No. 4 to 6 on the second line, and so on? Should he split the top three forwards among his lines? Should he do the same with defensemen?
Members of the highly successful Chicago Mission Tier I AAA hockey program, which has racked up Illinois state titles, believe youth coaches should resist making changes to their regular lines during power plays. Its members stress that youth hockey players are still learning the sport – power plays and penalty kills included – and the best coaching philosophy is to keep together the team's regular lines to involve all the players.
(The best drills will motivate your young players. The Pass Keep-Away Drill keeps players working on their passing and evading skills.)
"We let everybody play the power play," says the program's former director, Anders Sorensen, adding coaches don't want to specialize their special teams before high school age, even on the travel hockey level.
Chico Adrahtas from the Chicago Mission didn't even do that when he coached on the midget level for 16-, 17- and 18-year-olds. "Our job is to develop kids; our job is not to win," he says.
All youth players will improve with strong hockey coaching. A power play is such an excellent way to score a goal that a youth hockey team doesn't want to waste the opportunity of having more players on the ice – whether 5-on-4 or 5-on-3 – while the other team serves a penalty. Players must learn to be efficient with the power play.
"I think, naturally, sometimes on the power play you don't think you need to work as hard, which is something we stress with our players," Sorensen says. "We actually tell them they need to work harder on the power play because the other team has a sense of urgency in their game because they're shorthanded.
"To have a good power play, I think you need to have a good skill level for your team. If you don't have the skill on the team, there's no point of working on the power play. You should work on their skills. The fundamentals come first."
To form the right lines, the players must fit together. That chemistry usually develops over the course of a season. "The ideal line," Adrahtas says, "is a kid who's a playmaker, a kid who's a goal scorer and a kid who is particularly adept at getting the puck out of tough spots."
Coaches, Adrahtas adds, "look to the National Hockey League and say, 'Oh, the Detroit Red Wings run their power play this way, so maybe we should.' Well, you don't have the talent of the Detroit Red Wings, so I don't know if you want to do that. You always want to construct your special teams to the strength of your players."
Sorensen suggests using hockey drills that get the entire team working on the power play: practice puck control and passing in tight spaces. This gets everybody out on the ice and learning hockey skills for the power play.
"Any small area game where you can do a 3-on-2," Sorensen says. "Down low, that actually works on the power play. We do a lot of small area games that include a lot of power plays without the boys even knowing they're actually working on the power play. Power play is more about patience and creating 2-on-1s."
###
Learn the best coaching techniques through PlaySportsTV hockey training plans.