Guy Gadowsky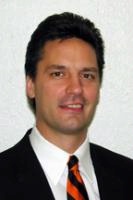 Guy Gadowsky
Head coach Guy Gadowsky has been the architect of Princeton University's rise to the top of the ECAC Men's Hockey League.
During the 2007-08 season, the Tigers won a program-high 21 games and reached the NCAA Division I Tournament for just the second time in program history. Gadowsky was honored as the ECAC Hockey Coach of the Year and was a finalist for the national award.
Gadowsky spent five seasons at Alaska-Fairbanks in the Central Collegiate Hockey Association. The Edmonton, Alberta, native also was the head coach and director of hockey operations for the Fresno Falcons of the Western Collegiate Hockey League, and coached in Roller Hockey International, serving as the head coach of the Oklahoma Coyotes in 1996 and the San Jose Rhinos from 1997 to 1999.