Olympian Carli Lloyd Looks Back on Her Youth Soccer Experience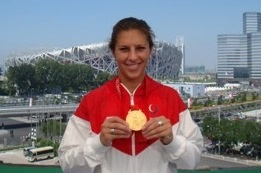 Olympian Carli Lloyd show off her gold medal from the 2008 Beijing Olympics
By Craig Haley
PlaySportsTV Managing Editor
The admiring eyes tell Carli Lloyd a lot when she performs a drill at a youth soccer camp. She's a role model both on and off the field.
"If I'm doing these same drills that they're doing," Lloyd says, "then the players can believe that they work." Which, of course, is the way to shape young, enthusiastic minds.
If Lloyd wasn't a soccer player, she says she would be coaching youth soccer. That role remains in her future, though, because Lloyd is busy being one of the top offensive players with the U.S. women's national soccer team. At the 2008 Beijing Olympics, she scored the game-winning goal in the gold medal game when the United States beat Brazil.
(The PlaySportsTV soccer training plan How to Play the Striker Position includes over 20 soccer drills on video for youth players who want to develop their offensive skills at the striker position. The video Receiving Ball with Back to Goal highlights a great tactical play in goal scoring.)
Lloyd has learned enough from many coaches to know how youth soccer coaches can tailor their instruction. Her soccer tips would involve mixing the teaching and fun while providing life lessons to young players.
"That's something that I would like to aspire to," Lloyd says. "I think one of the most important things is being able to manage every single player. You don't find coaches out there who are able to manage and get the best out of each player, from younger ages all the way up to the national team.
"If coaches can just find a way to get a player going – it may not be a starter, but they may come into one game and make the slightest bit of difference. So I think that's important."
Although the New Jersey native was a two-time Parade All-American in high school, she credits a youth soccer coach whom she met just before heading off to play collegiately at Rutgers, James Galanis, for helping her get to a higher level of play while she was becoming a four-time first-team All-Big East player. Lloyd says Galanis provided support in the right way, rid her of poor habits with soccer drills and skills, and made her fully grasp conditioning. He increased her water intake and tailored her diet, improved her flexibility with more stretching and body-weight exercises, and worked on her long- and short-distance running – which was all necessary to get her to the national team level.
"I kind of relied on my athletic ability," she says, "and he taught me the importance of becoming fit, becoming strong and becoming mentally tough as well as fine-tuning all my other attributes and skills. For me, looking back I wish I had a (prior) coach that would have taught me the importance of being physically fit as much as I could have been at that level.
"He gets the message across to people and he expects nothing but hard work. And my concept of hard work back in the day was a bit different than it is now. I see all the kids that he works with – he pulls them out of practice, he pulls 'em out of games, he sits 'em down, he tells 'em what they've done wrong, and kids respond.
"You have to do a variety of things. I see what he does with kids, he works on all types of skills – dribbling, passing, receiving, shooting, defending – he does it all with them. They do small-sides games, they do fitness games, they do strength stuff. I would do it all."
Carli Lloyd figures to make an excellent soccer coach. She already has the game plan for becoming one.
###
Learn the best coaching techniques through PlaySportsTV soccer training plans.