Youth Soccer Tips for Heading the Ball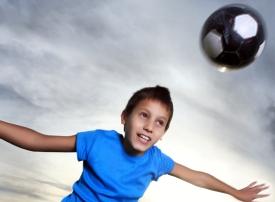 Start youth soccer players early with head ball technique.
Correct technique increases results, decreases chance of injury
By Mary Ann Tarr
PlaySportsTV Contributor
If you think of a speeding bullet in soccer, you're likely to imagine the ball zooming off the foot of a strong athlete. However, some Superman-style shots can come on head balls.
"One of the best players that I have seen with head balls is Jim Fryatt, who came to the USA to play with the Philadelphia Atoms of the North American Soccer League," says Art Napolitano, who played five years professionally with the Major Indoor Soccer League, was part of the MISL All-Star Tour of Haiti in 1980 and played two years in the North American Soccer League. A high school and college All-America, Napolitano went on the USA Olympic/National Team Korean Tour in 1979.
He was spot-on about Fryatt's headball prowess. Sportswriters and other soccer aficionados called it Fryatt's trademark bullet header. It was often said he could head a ball harder than modern day players can shoot. At least one of his hat tricks came on all headers.
Napolitano, who starred at Hartwick College, where he earned All-Region and All-America honors, offers youth soccer tips for proper headball control and technique.
It's important to time the head ball. To generate power, a youth soccer player should head the ball off his forehand about the hairline, which Napolitano points out is the hardest part of a player's head. A player also should bend his knees, arch his back and snap his ball into the ball.
"As you are about to strike the ball, you need to draw back your head using your neck and shoulder muscles while tucking in your chin," Napolitano says. "If you are shooting at goal, when you explode forward with your head, you attempt to strike the ball just above the center line and try to hit it down not up.
"Defensive heading, you would try to hit high, far and wide so you would strike below the center line of the ball."
Len Carmichael, who has coached multiple sports in multiple states over a career that has spanned nearly 40 years of working with high school- and college-age athletes, recommends that some time be devoted to preparation for soccer headers.
"You have to have a strong neck," he says. "You've got to do drills to make their necks strong."
Other concerns about soccer headers focus on injuries – many of which involve contact with objects other than the ball including player to player, player to ground, player to goalpost and player to equipment. Padded goalposts has been enthusiastically recommended and jumping into the header reduces stress on the head.
There has been research done about the cumulative impact of the repeated soccer ball-to-head contact, but there have been no universally definitive agreements reached. A suggestion to encourage protective headwear was not greeted warmly by the soccer community.
Starting youth soccer players early on head balls will help prevent them from being afraid of using the technique.
###
Learn the best coaching techniques through PlaySportsTV soccer training plans.