Tips for Playing Soccer Goalie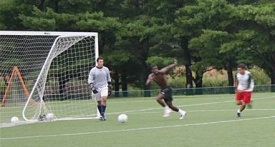 Soccer goalie tips with winning coach Charlie Inverso
By Craig Haley
PlaySportsTV Managing Editor

Charlie Inverso says he encourages youth soccer goalies to watch some of the world's best players. The Rider University men's soccer coach, and a five-time junior college national championship coach with Mercer County Community College, catches himself. He'd rather see young goalies develop their own styles.

In a pinch, Inverso names Iker Casillas and Gianluigi "Gigi" Buffon as the world's top soccer goalies. But every goalie, Inverso says, can develop excellent technique and soccer skills, such as footwork.
"I would say probably the best attributes of a good goalkeeper," Inverso says, "are positioning, understanding of the game, presence and really the ability to be a leader back there and take charge of what's going on – just control certain situations on when to come off their line, especially young kids when to come off their line to pick up the ball with their hands or come off their line and kick the ball away with their feet."
Soccer Goalie Tip: Be Bold on the Back Line
Inverso conducted a two-month study on how 500 goals were scored in many of Europe's top professional leagues and found the highest percentage of goalie decision-making mistakes came from through balls and breakaways. His findings emphasize the importance of a goalie taking charge of his area and coming off his goal line, when necessary.

Inverso says strong decision-making and aggressiveness are vital to a goalie's success. A goalie has to have the confidence to come off his line and not be afraid to have the ball chipped over his head (a skill not worked on enough during soccer drills, Inverso adds). By coming off his line to collect balls, the goalie will eliminate many shots and potential goals. And being loud and calling for a ball early will intimidate some opponents.
Soccer Goalie Training: Make it Game-Like
To develop goalies, Inverso says to practice game-like soccer drills, including crosses, corner kicks and through balls, and constantly use field players to help train goalies. After the soccer training, he says the attacking players should provide feedback to the goalie about his play. It's also highly suggested that a coach watch the action from behind the net. It's a way to tell if the goalie is making the best decisions.

A goalie who masters the basic saves through repetition will have an easier time making the harder saves. Above all, a goalie should not be afraid to develop his own winning style.
###
Learn goalkeeper training and the best coaching techniques through PlaySportsTV soccer training plans.
Photo courtesy of Mercer County Community College