How to Choose a Junior Tennis Instructor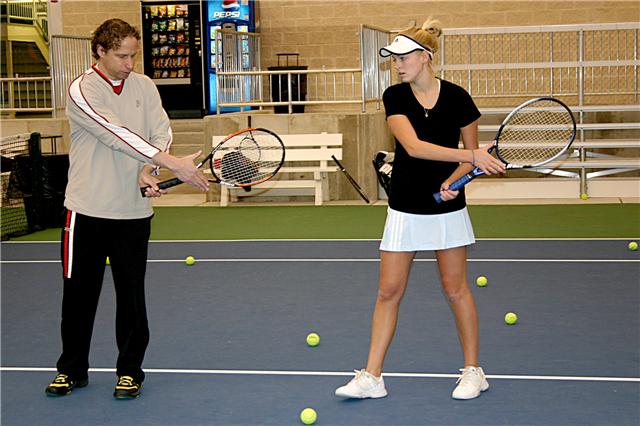 Tennis instructor Marc Vecchiolla, left, with college player Maria Eldridge
By Craig Haley
PlaySportsTV Managing Editor

It's ironic how the world's greatest tennis players, such as Rafael Nadal, Novak Djokovic and Serena Williams, take advice from tennis coaches whom they would soundly defeat on the court.

The coaches, though, often know their protégés better than anyone else. Plus, they provide tennis tips on the finer points of the sport.

Tennis is a sport in which many people, including youngsters, rely on an instructor's coaching when they are learning how to play tennis. It's important for them to have the right instructor.
(Learn the best coaching techniques through PlaySportsTV tennis training plans. Here's a sample of the Point of Contact instructional video.)

Marc Vecchiolla, the head coach of Mercer County (N.J.) Community College's highly successful men's and women's tennis programs, and the Mercer County director of tennis operations, says budding junior tennis players and their parents should seek recommendations for an instructor, especially from other students.

Many instructors are nationally certified, but that is not a prerequisite for becoming a tennis teacher.

"Usually you look to the experience somebody has – how many years that they've been doing it, do they coach a team or within a program," says Vecchiolla, whose Mercer CCC players annually compete at the national junior college championships. "There is USPTA certification (U.S. Professional Tennis Association) or USPTR certification (U.S. Professional Tennis Registry). … Some of the best people that I've seen teach have never been certified. That's always a good thing to see – the certification – but it is not necessarily the be-all, end-all."

A tennis instructor should teach youngsters the rules of the game, how to hit a tennis serve, forehand, backhand and other shots, and help them improve in many ways. But, Vecchiolla points out, an instructor should "really make it a fun process."

"We want people to have fun and have it be a social atmosphere for them," Vecchiolla says. "I think rather than getting too technical right off the bat at the beginning, you want to give them a few basic tips and you want to get them playing the game as well because if people stand around or they're in line or you get too technical, they seem to lose interest, where as you throw them out on the court – a baptism by fire situation – before they know it, they're active and they're running and they're hitting the ball and they're getting a smile on their face.

Vecchiolla's tennis instruction at Mercer County's outdoor and indoor centers starts at age 5. By 7, a player already can move into advanced groups.

Vecchiolla likes such players to be devoted to tennis. He just doesn't believe a junior tennis player should be forced to have too much pressure too early.

"Some of the best players that I've grown up with, they don't play anymore," he says. "The reasons are, the expectations they put on themselves or maybe their parents put on them are too great. You know, too much about the winning or losing, the practice situation wasn't a fun, social atmosphere for them. Socially, it can be productive at the same time. I think people kind of lose sight of them."

"If it's a child, we still like to keep a smile on their face throughout. You want to see what different points of progress would be (right for them)."

###
For more tennis tips and tennis instruction, check out PlaySportsTV's complete collection of videos for learning how to play tennis.
Photo courtesy Mercer County Community College