Wrestling Strength and Conditioning Drills Make A Difference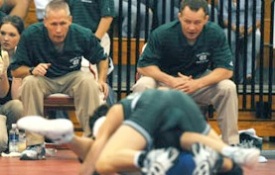 Proper physical conditioning leads to winning wrestling
A checklist for making your youth wrestlers stronger
By Barry Federovitch
PlaySportsTV.com Contributor
Few sports require consistent physical conditioning more than wrestling. It's a sport in which there is nowhere to hide, where the wrestler cannot be bailed out by a superstar teammate and defeat – if not injury – can come quickly for the unprepared.
Few high school wrestling coaches in the southern United States (if not anywhere) carry more clout than Cliff Ramos, a National Wrestling Hall of Fame member who has dominated in the Georgia prep ranks.
(Instruct the best coaching techniques through PlaySportsTV wrestling training plans. In this great instructional video, a coach breaks down the Over and Under Leapfrog Drill.)
Such wrestling consistency, according to Ramos, comes with a commitment to hard work.
"We lift a lot in preseason, but something we really stress is lifting during the season," Ramos says. "We lift three days per week, normally at the end of practice. We do a lot of high intensity core lifts that are timed with high reps. We do a lot of tire lifts, sledge hammers, keg lifts, etc."
As with any weight-lifting regimen, safety is the key. One should always begin in moderation before working his way up to the elite level that Ramos' wrestlers have attained. But the goal, as it pertains to the end product on the mat, remains the same.
"(It's all about) maintaining strength and building endurance," Ramos says.
Not everyone is a state champion and most never reach the elite level in wrestling. For the newcomer learning how to wrestle, who may have untapped potential, but lacks direction when it comes to work habits, Ramos lists the following helpful strength and conditioning drills:
1. Rope climbs – Builds upper body strength, but specifically strengthens hands, wrists, forearms and fine-tunes fine motor skills. It should always be done with the proper adult supervision.
2. Pull-ups – A simple, time-tested way of building upper body strength that can be done safely at the gym or even at home.
3. Lunges – Strengthens leg muscles, adds flexibility and endurance. Can be done anywhere.
4. Squats – Works the entire body, particularly strengthening the core.
5. Various partner lifts – For those who don't enjoy working out alone, it helps to have a spotter.
Again, safety should not be taken for granted with youth wrestling.
Sometimes all the hard work doesn't pay off in the form of wrestling championships. Someone is bigger, stronger, better. But to Ramos, the most frequent error wrestling coaches make when it comes to strength and conditioning has to do, again, with consistency.
"They let it go or taper down too much as they get in the grind of the season. We made it a focus of ours to keep doing it until the end of the season and it has paid off," Ramos says.
One certainly can't argue with the results.
###
Photo courtesy of Cliff Ramos