How to Play Lacrosse: Practicing Off a Wall Pays Off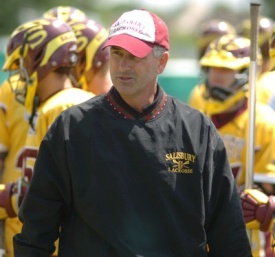 Wall practice pays off, says Salisbury University lacrosse coach Jim Berkman
By Craig Haley
Play SportsTV Managing Editor

A lacrosse player's best friend, says Salisbury University men's lacrosse coach Jim Berkman, who has won the most games in NCAA history, "is a nice concrete wall that he can throw the ball off for endless hours and numerous times.

"The kids that throw the ball off the wall are able to motivate themselves to do that for hours upon end (and) are usually the kids that separate themselves in the game of lacrosse."

It sounds so simple, but it's true. The gym rats of lacrosse usually become its top players because they work the hardest on their craft.
(For great youth lacrosse drills, check out PlaySportsTV's collection of boys' lacrosse and girls' lacrosse videos. Here's a great video instructing wall ball technique.)
There aren't enough youth lacrosse coaches to keep up with the sport's growing popularity among youth lax players today. So in addition to playing on teams or attending camps, the best players have to keep working on their lacrosse skills and figuring out their moves. Throwing a ball off a wall is a great way to work on eye-hand coordination, strengthen wrists and develop lacrosse stick skills.

"Anybody who has ever been any good in lacrosse has always had a great stick," Berkman says. "A great-stick kid just never puts his stick down. He's always got his stick wherever he goes, he's always playing catch with his buddies, with his dad, he's throwing the ball off the wall all the time and he has a routine where he loves to go shoot off the wall, he loves to go shoot on the net. And he's doing it with both hands all the time. It seems that those kids who have that drive and determination and love for the game, that never put their sticks down and always have it in their hands where it becomes an extension of their arm instead of a foreign object, end up being the ones with the best skills."

The more a lacrosse player practices throwing off a wall, the better. While standing 5 to 10 yards away from the wall - and eventually farther - it's important to be creative. A player can work with a quick stick throw, on the backhand or while in motion. He should work on both hands – throwing with one hand and catching with the other, incorporating dodge moves and reversing the stick handle, or just using the same hand for the catch and throw, and then switching his handle. Do the work in sets, and above all do a lot of wall-ball lacrosse throwing.
###
Instruct the best coaching techniques through PlaySportsTV lacrosse training plans.

Photo courtesy of Salisbury University