Synthetic Turf Makes Coaching Football Easier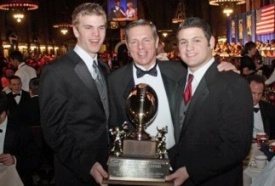 After his first unbeaten season in 2008, New Canaan High's Lou Marinelli, center, was named Connecticut High School Football Coach of the Year.
By Craig Haley
PlaySportsTV Managing Editor
Almost all the 19 high school football teams in the Fairfield County (Conn.) Interscholastic Athletic Conference have artificial surfaces. New Canaan head coach Lou Marinelli, the instructor of a PlaySportsTV football training plan, remembers overlooking one of the natural grass fields from a hillside and wondering how his players would react to playing on it one rainy, muddy evening.
"I made a joke that our kids would say, 'Wow, Coach, look at that. Are they still going to allow us to play in that?'" Marinelli remembers.
Marinelli prefers to downplay when his team – whose home stadium has Sprinturf – switches from a field with synthetic grass to one with natural grass, and vice versa. His players don't need a lot of extra football equipment when making the switch from surface to surface and get to use the same cleats on each surface. The 2008 Connecticut High School Football Coach of the Year finds his team's spread offense is helped by synthetic grass because the surface is flat, even and without holes, bumps, and, like that rainy night, mud.
"It's been good because it's a truer surface," Marinelli says.
(Instruct the best coaching techniques through PSTV football training plans with Lou Marinelli and other top coaches. Here are the fundamentals of the Four-Point Stance for defensive linemen.)
Synthetic grass fields, which are man-made surfaces manufactured from synthetic materials and made to look like natural grass, have been installed at thousands of schools, parks and indoor athletic facilities because of their durability and lower maintenance costs. The surface provides faster traction than natural grass, so Marinelli thinks it gives a slight edge to a football team's offense because the players know where they are going and can run their scheme at a faster pace.
Overall, Marinelli finds his team's injuries have declined on synthetic grass, although such a surface is prone to muscle strains and spasms. His football players wear ankle wraps to try to decrease the potential of sprained ankles. The abrasions and other injuries are not nearly as prevalent or severe as those he saw on the older AstroTurf fields, which Marinelli said "was kind of like playing on a Brillo pad."
Although Marinelli finds playing on synthetic grass provides a consistent surface, he cautions that some fields are more slippery at night because of rain or dew.
"It causes kids to kind of slow down to make sure that their footing is more under them. If you fly down the field and you're not under control, you'll go down," Marinelli says.
Much of the national focus for installing synthetic grass is the cost-effectiveness with fewer postponements and cancellations and less field maintenance. Marinelli says not to overlook the idea that coaching football is made easier.
By having more consistent field markings, Marinelli says, "I love to have the lines and the hashes and the numbers – they're all right there. So you teach off of those. You can a tell a kid to run the fade on top of the numbers and you can tell a kid, 'You know, you're going to go to that hash and make a move.'"
The advantage of playing on synthetic grass, he adds, is "to know where you are, know where you're going and know that that surface is going to be true and hold up for you."
###
Learn the best coaching techniques through PlaySportsTV football training plans.
Photo courtesy ramfootball.com.