Building Chemistry on Youth Football Teams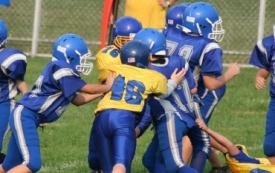 Break down youth football players into small groups in practice to develop chemistry
By Craig Haley
PlaySportsTV Managing Editor
Trust among youth football players isn't just knowing a teammate has your back, it can mean knowing a teammate literally is coming up behind your back.
At the beginner level, coaching youth football involves getting youngsters to grasp the importance of discipline on plays and to remain true to assigned responsibilities. For example, an offensive lineman has to provide blocking room at just the right time and in the right way, knowing the running back behind him, and out of sight, will be there to bust through the hole.
(Instruct the best coaching techniques through PlaySportsTV football training plans. Here's a great instructional video on run block fundamentals.)
All 11 players on each side of the ball have to rely on each other for a team to execute plays properly. In truth, it's a matter of knowing teammates have your back, your front and your side.
"I almost force them in a sense to depend on one another," youth football coach Mike Gomez says about his coaching style.
Gomez, the 2008 American Youth Football & Cheer Football Coach of the Year in the All-American Division, has enjoyed a tremendous run with his team in Kissimmee, Fla. Some of his Osceola Panthers began playing together at 6 and 7 years old, and after seven years Gomez's team has won five state titles and two national titles.
According to Gomez, getting youngsters to learn how to play football isn't only about coaching 11 versus 11. He recommends that coaches break down offenses and defenses into smaller groups to develop chemistry, rhythm and execution. He doesn't just group a quarterback with another quarterback, or defensive backs together. He runs football drills with different units working together in four- and five-man groups, which provides a lot of close instruction.
One such pairing pits a quarterback with three running backs and an offensive guard, who is critical to many running plays. "That pulling guard has to get out in front of that running back as a lead blocker every time," Gomez says. "If he's one step behind, it just totally throws the play off.
"Previous to them being one unit – as 11 – that quarterback, running back and that pulling guard, they to all be on the same page. And they have to understand that if they're not working together, it's impossible to be successful."
Defensively, a strong-side football drill can involve an interior lineman working with an outside linebacker, a cornerback and a safety. Each player has to be disciplined to his area of the field, which provides containment. "All it takes is that fake play or that bootleg or whatever it may be, and if you're out of position, and it's going to kill the team," Gomez says.
He adds youth football players need repetition for learning plays and to develop trust and vision for how plays work. Despite the success of his core group that started together in pee wee football, his coaching philosophy hasn't changed at all.
"It doesn't matter how good we are today or we have been in the past, I'm still treating them like they're one," Gomez says. "If we don't have 11 kids on the same page, it isn't going to work."
###
Learn the best coaching techniques through PlaySportsTV football training plans.