Coaching Youth Football: Keep the Passing Game Basic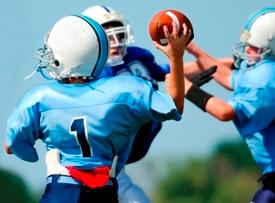 Keep the passes basic in youth football.
Teamwork, solid execution make the right connection
By Craig Haley
PlaySportsTV Managing Editor
On the lowel levels of youth football, it's conceivable for a team to win championships without completing a high percentage of passes or even a high number of passes. Teams usually rely on running the ball for the majority of their plays.
There comes a time, though, when teams begin to use more pass plays, and it's a football coach's responsibility to keep all of the pressure off his ever-developing quarterback. Keep the passing plays basic and get contributions from the entire offense, recommends Steve Norcio, who has coached White Oak (Md.) Warriors football program to four Pop Warner national championships.
Norcio stresses the importance of keeping the passing routes basic and short, and spend time on repetitions during football drills, like quarterback ballhandling after the snap.
"I think where coaches tend to make a mistake," Norcio says, "is when they put routes out there they make them too long."
To run a tight passing game, Norcio recommends football coaches instruct a quarterback to use the three-step drop from the line of scrimmage. Have the QB stagger his feet under center, with his left foot back if he is right-handed and his right foot back if he is left-handed. This puts him one foot into his drop.
The quarterback needs production all around him, and the offensive line is particularly important. Each lineman must provide protection to give the quarterback enough time to get a pass off to an open receiver. "You can't pass if you can't block," Norcio stresses.
Norcio says his 2008 national championship squad had about 12 to 14 pass patterns. "We time them," he says. "We time how fast (the quarterbacks) take their drop backs and we time the route. We try to get rid of the ball in 2.8 seconds. We try not to put too much in."
Norcio suggests not to use a lot of rollouts with a young quarterback, instead keeping him between the tackles to ensure better pass protection. Keep the pass routes simple, like a slant, drag, curl, post or out, or rely on short, flat patterns with a running back. Norcio also advises bunch routes, where three receivers are bunched to one side.
The receivers have to have good footwork and technique to get open because not a lot of young quarterbacks are going to be able to zip passes to them.
"Make him throw button hooks and short, flat passes a hundred times until he really gets comfortable," Norcio says, "before he bites something off bigger."
By involving all of the players in the thought process of the passing game – for example, making decisions off what the defense is giving up consistently – it will be come together quicker.
It's important that a young quarterback gets confident passing the ball. A football coach can help him reach that level.
###
Learn the best coaching techniques through PlaySportsTV football training plans.