Coaching Youth Football: Using the Double Wing Offense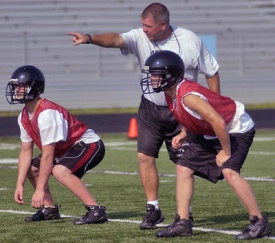 The double wing offers many benefits in youth football
By Lonny Goldsmith
Special to PlaySportsTV

Darren Lindsey coached a team of youth football players who did not have much success. The team's fortunes in the Twin Cities North Youth Football League in Minnesota turned once he put the double wing offense into action.

"It's a tight, smash-mouth, misdirection offense," Lindsey said.

Lindsey said the system has specific blocking rules for the offensive lineman, which helps with blitz pickup. The backfield assignments, he adds, also are easy to teach, especially for kids in the fourth-, fifth- and sixth-grade divisions.

"You don't have to have the biggest studs on the field on the offensive line because it creates a lot of double teams," Lindsey said. "You're getting help from lots of players.

"Guards have to be able to move," the youth football coach added. "They have to get through and take on a linebacker. There's a lot of teaching up front. That's what we focused on in the first week of practice."
(Instruct the football fundamentals necessary to play quarterback or improve QB skills. Learn more about PlaySportsTV's football training plan How to Play Quarterback. The One-Handed Fake is one of over 40 football drills and skills on video from one of the country's leading high school football coaches.)

The biggest challenge, Lindsey said, is teaching youth football players all the assignments. "The system has a set blocking scheme that you need to teach," he said. "They have a number of assignments and at first they have a harder time picking up on the assignments. They want to block a guy in front of them, but that's not always what they should do. It's a lot of teaching."

Lindsey said the system allows him to use a variety of players. "Usually the 2-back is the stud," he said. "The backs have to be able to catch the toss. Lineman-wise, I like to have big tackles, but (a team) can get by with smaller (tackles)."

Lindsey said his youth football players practice the double wing offense for two weeks to learn the scheme.

"If I could get two weeks, most kids will have a pretty good understanding of the system," Lindsey said. "I'm hoping to run five plays by the first scrimmage. But I get new kids every year, so I have to re-teach it every year."

Centennial High School, which the Northern Youth Football League feeds into, uses the wing-T and the tandem formations, Lindsey said. He looked on the internet for some different ideas and an easy offense to teach his football players. That's where he learned to coach football's double wing.

"Last year, a lot of kids who hadn't had a lot of success went 7-2 and made the playoffs," Lindsey said. "We lost in the first round, but it was a pretty successful year for us."

Story courtesy of Red Line Editorial, Inc.
###
Learn the best coaching techniques through PlaySportsTV football training plans.