Youth Football Drills: Here's the Scoop on Recovering Fumbles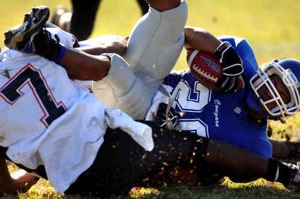 Practice how to create turnovers during youth football drills
By Adam Himmelsbach
Special to PlaySportsTV
Turnovers can alter the course of a football game in an instant.
Knocking the ball free from an opponent is just the first step in making a fumble a turnover. Yes, once the football is free, someone must recover it, and it might as well be someone on your team.
The varsity coaches at Courtland High School in Spotsylvania, Va., are sold on a football drill that encourages both big hits and good hands. Also, they have found it is a drill their players truly enjoy.
It is called the "scoop and score drill." All you need are football players, a football and a tackling dummy.
(Instruct the best coaching techniques through PlaySportsTV football training plans. Incorporate the Rope Ladder Drill into your football coaching fundamentals.)
First, place the football on top of the tackling dummy, essentially making the football its head. Next, line up the player a few yards from the dummy. The first player in line must charge and hit the dummy, knocking the ball to the ground. Now the player must run to the football, grab it and run toward the end zone.
In another variation of the drill, the player can simply fall on the football after it is knocked free. Sometimes, defensive players get too caught up in gathering a fumble and returning it for a touchdown, and they never recover the fumble to begin with. This version of the football drill can help to alleviate that tendency.
If your defensive players perfect the scoop and score drill, it might make them more comfortable going after the ball the next time it pops free. And it might help you win the turnover battle against your opponent.
Now that's how to play winning football.
###
Learn the best coaching techniques through PlaySportsTV football training plans.

Story courtesy of Red Line Editorial, Inc.