Coaching Youth Football: Tips for Timing and Measuring Players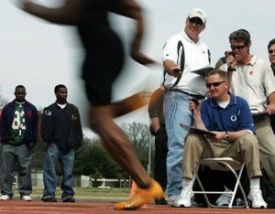 Time and skill evaluation is beneficial for coaching youth football
By Tom Robinson
Special to PlaySportsTV

Youth football coaches looking to time and test their players for evaluation need to be sure that the information they gather is accurate. It's the only way the numbers will be meaningful.

Gil Brandt, the former vice president of player personnel for the Dallas Cowboys, used his experience in evaluating football players to offer suggestions to coaches at a NFL Youth Football Summit.

"Impressive bench repetitions and exuberant long/broad jump numbers recorded by generous rep counters can be slightly tempered if not accomplished under direct supervision of a qualified scout or coach," Brandt said.

He says youth football coaches need to be aware if conditions change when athletes are being timed, and take that into account in any comparisons. For entry-level coaches, timing players is one way to determine what position a player might be able to play.
(Instruct the best coaching techniques through PlaySportsTV football training plans. Make Conditioning Drills are important part of practices.)
Credibility and integrity are important in gathering and presenting the numbers. Within that guideline, however, football coaches have the obligation to give their athletes the best possible chance for success.

"You want to put your athletes on the best surface," Brandt said. "Be sure you can provide the fastest time the guy legally and honestly ran."

Brandt suggested to high school coaches that they should not keep results to themselves.

"Do as many of these as you can and put results on a board so they can see where they stand within the team," Brandt said. "It creates an atmosphere of competition within the team, which I think is a good thing."

According to Brandt, players can be put through football drills that evaluate their change of direction, ability to gain leverage, ball skills and other attributes. He suggests comparing athletes by position. Linemen, for example, are not expected to be as quick as defensive backs and receivers.

Within position groups, other factors should be considered as Brandt pointed out in a comparison on the college level.

"Targets differ for larger or smaller players within the same position group," he said. "A 6-2, 225-pound wide receiver running 4.60 (seconds) in the 40(-yard dash) is more impressive than a 5-10, 180-pounder running a 4.55."

Brandt offered a list of football drills that would be timed or measured on a higher level of football and what they demonstrate:
The 40-yard dash shows speed over a distance.
The 10-yard split in a 40-yard dash shows initial quickness.
The 20-yard split in a 40-yard dash shows the ability to maintain burst.
Vertical jumps and standing broad jumps show leg strength and explosion.
A 20-yard shuttle shows flexibility, balance and burst.
A 60-yard shuttle shows the combination of flexibility and endurance. Brandt, though, said this football drill is unnecessary for linemen and quarterbacks.
A 3-cone drill is used to show change of direction and agility.
"(The 40-yard dash) gets the hype," Brandt said, "but shuttle runs and the 3-cone drill display the athleticism crucial to being a great football player. The speed of the game as players step up to the next level is such that they must have fluid, lateral movement and be able to change directions. Good times in these drills can trump poor (40-yard dash) times in some coaches' attitudes about players."

Timing can be seen more as a way to evaluate a player's ability to move up in level than to perform on the lower levels. As players progress toward an elite level, their times and football skills become more significant.

"If you take a Pro Bowl squad and break it down," Brandt said, "there are very few guys who get to the Pro Bowl who started out at 5-flat or 5.1."

Story courtesy of Red Line Editorial, Inc.
###
Learn the best coaching techniques through PlaySportsTV football training plans.