Coaching Youth Football: Implementing the Single Wing Offense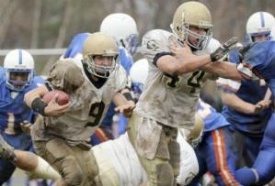 The single wing has advantages for youth football teams
By LonnyGoldsmith
Special to PlaySportsTV

John Benson, coach of a youth football team in Roseville, Minn., wasn't going to take chances with his offense. He taught his players how to play football with the single wing.

"We're trying a single wing style, with a direct snap and eliminating handoffs," he says. "It's an old style, but a few college programs are using it with a lot of quarterback runs."

The new system, which worked its way into the NFL in 2008 - first with the Miami Dolphins "Wildcat" formation - eliminates a lot of the timing issues with the offense and won't waste time with handoffs or dropbacks.
(Instruct the best coaching techniques through PlaySportsTV training plans. The Change in Direction drills are part of the Speed, Agility and Quickness Training for Kids.)
The single wing came at the right time for Benson. His team was playing for the first time with 11 players on both offense and defense, up from nine to a side when the players were younger.

"Going up two players adds a whole dimension," he says. "We like to keep it exciting for us, too. It's exciting for the kids because it's new for them. It's not the same five or six dive plays. We'll give it a shot and see what happens."

Benson says the biggest benefit of the single wing is getting the plays going quicker with less risk.

"A lot of times you see a dropback, a handoff and, against a good team, the play's dead before it even starts," he says. "We have some younger kids coming in, so we're trying to get a quicker-hitting kind of offense.

"We're taking a chance with all-shotgun, but if we practice and have a good athlete in at center, we should be okay."

The single wing presents a new blocking scheme for his youth football players.

"The challenge is getting to know the area. We're doing more zone-style blocking — getting them to know the area and find where they're going to block," Benson says. "We'll probably have a younger line and, like the shotgun snap, it will be a problem."

Still, Benson is confident his players will learn the new system.

"With the coaching that we have, I think we're going to be real thorough and not waste practice time," he says. "If we drill into their heads their assignments, I think they'll pick it up. If you work with the kid enough and explain it properly, I think you're fine. Like any system, if you're confident in how you're teaching it, you'll probably do okay."

Story courtesy of Red Line Editorial, Inc.
###
Learn the best coaching techniques through PlaySportsTV football training plans.