Lacrosse Goalie Drills For Coaching Beginners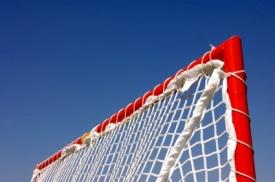 Use lacrosse goalies drills that use progression.
Use progression when developing introductory-level skills
By Craig Haley
PlaySportsTV Managing Editor
The first step for coaching a youth lacrosse goalie is not to overcoach. Highly successful high school boys' lacrosse coach Greg Scott uses his first-grade son as an example.
"Basically, if it hits him in the helmet and he's smiling, he made a great save," he says.
Scott, a highly successful high school coach in upstate New York, stresses the best way to teach youth lacrosse goalies is through progression, including the pole position with clock method. The veteran coach believes in giving all youngsters a chance to play in goal as well as at field positions, but when a kid is in goal, it's important to coach him to play aggressively, not be afraid of being hit by the ball and be a leader of the defense.
A youth lacrosse coach must ensure his goalie uses the proper stance. The goalie should keep a loose grip while holding his lacrosse stick out in front, with his top hand at 12 o'clock and his bottom hand at 6 o'clock in relation to his body. His head should be up, his back straight, knees slightly bent and feet shoulder's width apart, with a bounce in his step. He must not overstep as he turns his body around the crease; instead stepping with a small arc.
At his lacrosse camps, Scott doesn't have a young goalie use a stick when he first loosens him up through a progression of lacrosse drills. He holds two lacrosse balls and tosses them to his goalie before rolling the balls to get him used to pulling each ball into his chest and popping up into a strong stance.
When Scott adds the goalie's stick to introductory lacrosse drills, he has a young goalie turn it upside down to try to stop soft tosses with the butt end of the stick. The goalie learns focus and hand-eye coordination. "And then when they turn the stick back around, they're saving everything," Scott says.
Scott will have his goalie walk his end line and visualize saves, then he puts him to work learning how to defend different shots. The shots start up top and go around the horn for stickside and off-the-hip saves. A lacrosse coach can start with overhand shots and can shift to sidearm to get his goalie accustomed to fast reactions.
Outletting drills also are important. The goalie can rest on his knees and practice with a bucket of balls, developing upper body strength as he outlets the ball. "Then we practice on passing the ball in between the restraining line and the goal, to the restraining line, then as far as they can go while being as accurate as they can be," Scott says.
Eventually, during the young goalie's workout, the coach can put players in front of him, so he gets accustomed to facing screens. Communication is paramount with a goalie, so this is a good time to get him accustomed to directing defensemen.
Off the field, wall ball works well for a goalie, like field players. A goalie can practice throwing and catching the ball. Also, a coach can stand behind the goalie and throw the ball off the wall, which makes the youngster learn to pick up where it will come off the wall.
###
Instruct the best coaching techniques through PlaySportsTV lacrosse training plans.