How to Wrestle: Getting Beginners Comfortable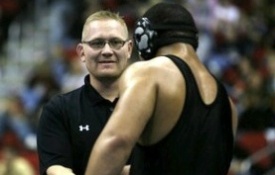 Jason Christianson, left, is the wrestling coach at Iowa powerhouse South East Polk High School
Wrestling coaches should begin by teaching the basics
By Kevin Maloney
PlaySportsTV Contributor
Stepping foot into a wrestling room or onto a wrestling mat for the very first time can be an intimidating feeling for a youth wrestler.
Just getting started into the sport, youth wrestlers often lack the confidence that is gained through experience both in practice and matches.
Some youth wrestlers are blessed with natural size, speed, quickness and strength that make the sport a natural fit for their skill set.
But what about those youths who weren't blessed with the size and speed that will give them an inherent advantage when they step onto the mat?
Like most facets of life, when learning the sport of wrestling, start with the basics.
The two most basic offensive moves any youth wrestler should be taught are the single-leg takedown and the double-leg takedown, part of the PlaySportsTV Wrestling Moves & Tips Video Library.
"You have to be comfortable in the basic positions," says Jason Christenson, the head wrestling coach at Iowa powerhouse Southeast Polk High School. "Rather than learning a lot of different techniques or holds, the most important thing is to be comfortable and to have a good idea of what you're going to do when you get into the position you're going to get into in your matches."
For those youth wrestlers who have yet to develop the strength that some of their counterparts may already possess, Christenson suggests using motion and quickness to their advantage.
"If you're just getting started, it's important to learn how to get your feet into better position," Christenson, a former Division III wrestler at Central College (Iowa), says. "A lot of times guys that are a little stronger are afforded the luxury of being able to control ties and move people into the position they want them to be in. The smaller guy usually has to do that with his feet."
All too often, young athletes – and their parents – expect to see rapid improvement over night. According to Christenson, that's not the recipe for long-term success.
"Everybody's looking for that shortcut and for that one thing that's going to make them good at this point and time," he says. "It's really got to be the basics. Try to stick with doing the few things really well rather than trying to learn everything. I think that will help a lot of kids if they're starting out in the sport."
Christenson is well-aware of the "burn-out effect" that comes with overworking youth athletes. While he says it's of extreme importance to incorporate goal-setting and activities that make the sport of wrestling fun and enjoyable, he adds it's never too early to educate youth wrestlers on the importance of eating properly.
"What that allows a kid to do is it allows them to focus more on getting better at the sport," Christenson says. "It allows them to make sure they get their workouts in the workout room. They don't have to necessarily reduce a whole lot of calorie intake. Obviously we want them to eat a healthy diet. We always talk about your body being like a race car and you wouldn't want to put sugar in your race car's gas tank."
###
Instruct the best coaching techniques through PlaySportsTV wrestling training plans. In this great wrestling instructional video, a coach breaks down the Half Nelson Pin Maneuver.
Photo courtesy of Reese Strickland