Youth Softball Players Learn From Older Girls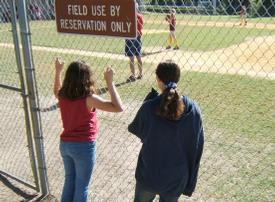 Youth softball players learn from older players.
Softball coaches and parents should plan outings at high school and college games
By Craig Haley
PlaySportsTV Managing Editor
Youth softball coaches and parents are not the only people who can teach the sport to young players – older players also can be role models. The coaches and parents should get their youth softball players out to high school and college games. Aside from having fun watching the action, the young players will absorb the skills of the older players.
It's a great way to validate with young players the importance of learning fundamentals like backhand fielding and to provide a first-hand look at what they can become through working on their skills.
"You start with the fundamentals," says Jodie Ricciardi, a New Jersey college softball coach who provides instruction at clinics and through private lessons. "That way as they grow older and older, they have the basics and the fundamentals down.
"They're always excited, they're always amazed (by older players). They're amazed at how hard the pitchers throw, they're amazed at how hard and quick the bats are, and how hard the hitters hit the ball. They didn't realize it (previously)."
A youth softball coach will be well-served by organizing a team outing to an area game. It's a great way to build team chemistry. Parents can be pro-active, too, and take their young players to games. The adults can point out so much to the kids, including how the older players are aggressive at the plate, in the field and on the mound. The pace of softball is faster when it is played well.
"One thing they can kind of take note of is how attentive the players are the whole game, how they're in on every play," Ricciardi says. "Even if you play outfield, you're still moving, you're backing up – everybody has a job to do on the field every game. That's important for them to understand."
What also may impress the young girls is how much the older players are enjoying themselves. Everybody takes up sports for the same reason – to have fun.
"They can see how upbeat they are and positive," Ricciardi says. "You can be a good athlete and they always have a positive attitude. They're fun also. Even though these girls play well into college, and high school, they're still there to have fun, which is really important."
Some girls' softball leagues will bring back teenagers who are graduates of the league to serve as mentors on teams.
###
Instruct the best coaching techniques through PlaySportsTV softball training plans.